November 1, 2021
In the News
Developer adds incubator space in Wake Forest as Triangle portfolio grows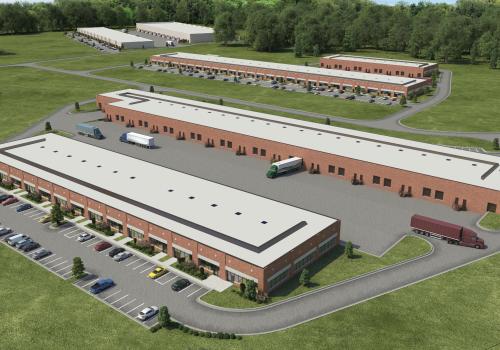 As demand for industrial space booms across the Triangle, one area newcomer is making room for the little guys.
As Maryland developer Merritt continues construction on its Merritt Capital Business Park in Wake Forest, the company has reserved half of one 30,000-square-foot building for "incubator warehouse" space – 1,500-square-foot industrial suites for small businesses.
The space will include 10 spaces, with tenants already lined up for two of them, and will include industrial and office space for small businesses with need for additional space. The concept is something Merritt's late founder, Leroy Merritt, started when he was first getting started in the 1960s and carried on through the decades as the firm grew. 
"He built a small warehouse building basically with his own hands in the late '60s, and he'd say 'do you need a little space?' to the contractor he was working with," said Keith Wallace of Merritt Properties.. "It goes back to our founding: small incubators for small businesses. Our first tenant is a mom-and-pop landscaper that's been working out of their garage. We're very excited about it."
He said the company may make additional incubator spaces depending on demand, and that tenants can expand their space in the park if they outgrow them. The company holds its properties long term and says it seeks to maintain extended relationships with its tenants. 
"We're here long term. We want to put them in the 1,500 feet and then they'll grow and say 'Hey, we need 3,000' or 'we need 6,000.'" Wallace said. "We want to stress the long-term relationships with our customers."
Altogether, plans for the Merritt Capital Business Park call for up to 452,500 square feet of industrial space across up to seven buildings. The property is situated off Ligon Mill Road south of the Wake Forest Fire Department. 
The park is part of a group of projects Merritt has in the works.
In Durham, the company's premier development in the Triangle, Merritt TW Crossing, features four flex/light industrial buildings totaling 282,471 square feet on 51 acres. The park is located at the corner of TW Alexander Drive and S. Miami Boulevard east of Highway 147.
In Knightdale, the company paid $2.5 million for an assemblage for the Merritt Midway Business Park, a development calling for up to five flex and light industrial buildings totaling 271,450 square feet. And in Cary, the company filed plans with the town for a project named Brier Creek Industrial, calling for 13 single-story flex buildings across 142 acres near Raleigh-Durham International Airport.
Written by: Caleb Harshberger
Staff Writer
Triangle Business Journal
View the article link here.