March 17, 2022
In the News
Maryland developer pays $9M for 142 acres near RDU – plans huge industrial project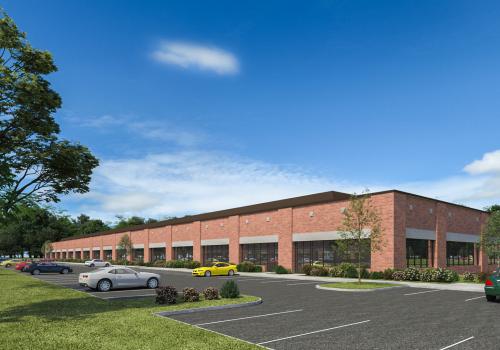 Article published by the Triangle Business Journal:
A Maryland-based developer has acquired a large property near Raleigh-Durham International Airport with plans to add another industrial park to its Triangle portfolio.
Merritt Properties of Baltimore paid $9 million for 142 acres for the Merritt RDU Business Park. Plans call for 738,750 square feet of industrial space across more than a dozen buildings.
The assemblage is made up of three properties situated at 4960 Nelson Road in Cary and runs along Aviation Parkway south of Interstate 540. Merritt filed plans for the development in early 2021.
The company plans to start construction on the first three buildings next year. The site will have 13 buildings ranging in size from 8,400 square feet to 108,225 square feet, according to the company.
"This announcement reinforces our commitment to the region and our confidence in the market's desire for flex/light industrial product," said Keith Wallace of Merritt Properties. "Designed to cater to a diverse industry base, this 738,750-square-foot development will allow us to serve businesses of all sizes and the area's various warehouse, manufacturing and distribution requirements."
In the property sale, Sarah Godwin of JLL (NYSE: JLL) represented the Estate of James B. Wilkinson, and Matt Winters of JLL represented Elbe Associates LLC.
"I'm very appreciative and excited about the investment and commitment being made by Merritt Properties into our town to construct the largest flex/light industrial project in the region," said Cary Chamber President Mark Lawson. "This opportunity speaks volumes for Cary's robust economy and the quality of the talent pool in our market. This type of product is critical and will meet the large demand we have in our community."
The project is Merritt's fifth development in the Triangle since entering the market in early 2020.
In January, the company paid $2.3 million for property in Chapel Hill with plans for the North Chapel Business Center, a two-building industrial development totaling 116,300 square feet. In Durham, Merritt TW Crossing, the company's premier development in the region, features four flex/light industrial buildings totaling 282,471 square feet on 51 acres. The park is located at the corner of TW Alexander Drive and S. Miami Boulevard east of Highway 147.
In Knightdale, Merritt paid $2.5 million for an assemblage for the Merritt Midway Business Park, a development calling for up to five flex and light industrial buildings totaling 271,450 square feet. And In Wake Forest, construction is underway on the Merritt Capital Business Park, where the company has reserved half of one 30,000-square-foot building for "incubator warehouse" space – 1,500-square-foot industrial suites for small businesses.
Caleb Harshberger
Staff Writer
Triangle Business Journal