January 5, 2022
In the News
Maryland firm's Triangle streak continues with rare Chapel Hill development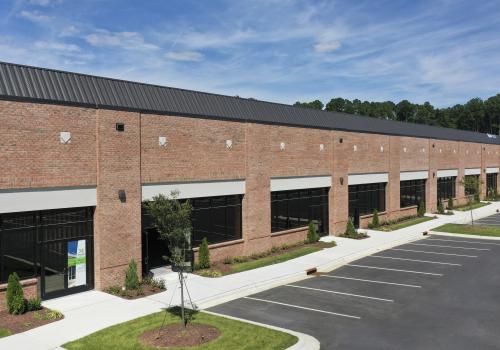 View the article link here.
Caleb Harshberger
Staff Writer
Triangle Business Journal
Jan 5, 2022, 8:00am EST
A Maryland developer is looking to bring its latest development to the Triangle – this time in Chapel Hill.
A Maryland-based developer with a growing portfolio of industrial developments in the Triangle is putting its latest project in Chapel Hill after closing on the land last month. 
Merritt Properties of Baltimore paid $2.3 million for the property at 7300 Millhouse Road with plans for the North Chapel Business Center, a two-building industrial development totaling 116,300 square feet.
The property is situated on 19.6 acres near Carraway Village on the northern side of town. The sellers are a collection of individuals and families in town. 
"We are excited to strengthen Merritt Properties' Triangle presence with our expansion into Chapel Hill," said Keith Wallace of Merritt Properties. "The town's flex/light industrial market represents great potential. There is increasing demand for our product type given the area's residential and mixed-use growth." 
The company plans to begin work soon and hopes to wrap up work by Q1 2023. The first building will feature 61,700 square feet of space while the second will feature 54,600 square feet, according to the company. 
The site is part of a district carved out by the town years ago to attract this sort of development.
"In 2017, Town Council created the 60-acre Millhouse Road Enterprise Zone to attract light industrial and research companies to Chapel Hill and to help us diversify our tax base," said a statement from Chapel Hill Mayor Pam Hemminger. "Merritt Properties' decision to create new flex space on Millhouse Road fully aligns with our strategic goals for the area and will bring new jobs and revenues to Chapel Hill."  
The project marks a rare industrial development in Chapel Hill
"North Chapel Business Center brings a promising opportunity to our team in North Carolina," said Nathan Robb of Merritt Properties, in a statement. "The special zoning, championed by Mayor Hemminger, provides a unique economic opportunity and allows us to fulfill a demand for the town and local businesses in Chapel Hill."
Les Pearce of Dillion Commercial represented Merritt and Carol Small of Brokers Unity Realty represented the sellers in the transaction.
This latest project joins a growing number of developments Merritt has in the Triangle since entering the market two years ago.
In Durham, Merritt TW Crossing, the company's premier development in the Triangle, features four flex/light industrial buildings totaling 282,471 square feet on 51 acres. The park is located at the corner of TW Alexander Drive and S. Miami Boulevard east of Highway 147.
In Knightdale, the company paid $2.5 million for an assemblage for the Merritt Midway Business Park, a development calling for up to five flex and light industrial buildings totaling 271,450 square feet. And in Cary, the company filed plans with the town for a project named Brier Creek Industrial, calling for 13 single-story flex buildings across 142 acres near Raleigh-Durham International Airport.
In Wake Forest, construction is underway on the Merritt Capital Business Park, where the company has reserved half of one 30,000-square-foot building for "incubator warehouse" space – 1,500-square-foot industrial suites for small businesses.