March 3, 2017
Press Releases
Merritt Companies Celebrates 50th Anniversary by Unveiling New Brand Identity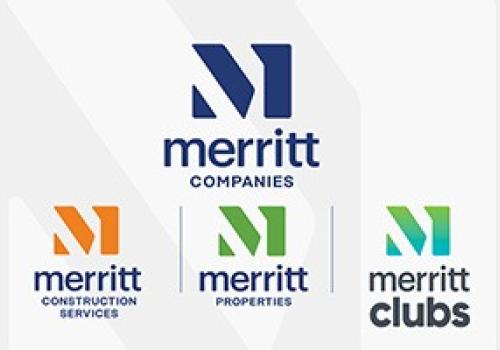 Merritt Companies, a family of three distinct businesses, marked its 50th anniversary by unveiling a new brand strategy that more clearly articulates its corporate identity. Having evolved from Merritt Properties, LLC, founded in 1967 by commercial developer Leroy Merritt, Merritt Companies is comprised of Merritt Properties, Merritt Construction Services and Merritt Clubs. Each offer distinct services to their audiences but share a singular vision to build long-term relationships with employees, customers and partners.
Merritt Properties is a full-service commercial real estate and property management firm dedicated to "creating homes for businesses" with nearly 16 million square feet of space in more than 70 locations throughout Maryland and Northern Virginia. Capabilities include leasing, property development and management, and financing. Merritt Properties owns and manages more commercial space than any privately held developer in the Baltimore/Washington area.
Merritt Construction Services offers full-service construction capabilities, including site development, general contracting, and redevelopment. The company's experience includes land entitlement, rezoning, new construction, interior build-outs, and LEED/Green building methods and evaluation.
Merritt Clubs, voted Baltimore's Best Health Club for the past four years, currently has more than 30,000 members throughout nine locations in downtown Baltimore and the surrounding suburbs. All Merritt Clubs are open 24 hours a day and offer individual and group fitness programs, personal trainers, state-of-the-art facilities, and specific programs and amenities designed to meet the needs of the local community. The first club opened 40 years ago in Towson.
"For 50 years, our focus has been our customers, and we're proud to say we haven't wavered in that commitment," said CEO Scott Dorsey. "While our three companies have a clear connection in terms of services, our overall look and feel didn't adequately communicate that singular vision. This new rebrand makes it easier to highlight that connection."
Merritt partnered with Grafik, a branding agency based in Alexandria, Va., to establish a framework for a more consistent marketing of their three individual companies. After conducting an extensive insight-gathering phase, a new brand architecture was created to strategically align the Merritt businesses under a single corporate umbrella. This features a bold logo system that ties the brands together.
"For years, our logo was simply our name beneath a mansard roof, an architectural element that represents 'doing the right thing' when it comes to employees, businesses and customers, which was very important to my dad, the company's founder," explained President Robb Merritt. "While that graphic was unique to our company, it didn't capture the essence of all three companies. After 50 years, we all agreed it was time to evolve our brand identity, without losing the familiarity of our old logo."
As part of the process, Merritt also launched the merritt-companies.com website, which highlights the legacy of Leroy Merritt, the company's longstanding track record in the Baltimore region, and its commitment to fostering a workplace focused on growth, service and personal achievement. lifestyles are the norm.
###
About Merritt Companies
Merritt Companies, founded by Leroy Merritt in 1971, is comprised of Merritt Properties, Merritt Construction Services and Merritt Clubs. The privately owned enterprise leverages the passion and enthusiasm of more than 1,000 employees to help businesses and individuals achieve their goals. Merritt Companies is led by CEO Scott Dorsey and President Robb Merritt. For more information, visit merritt-companies.com.