April 9, 2020
In the News
Merritt Companies Thrives While Adhering to its Core Values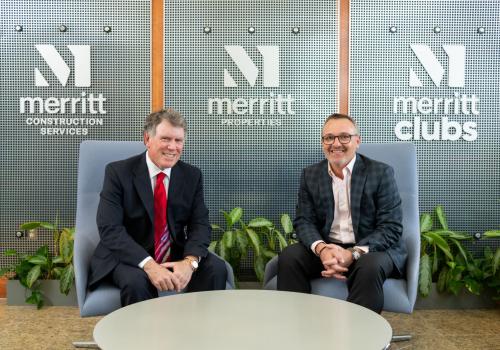 People Over Profits
I95 BUSINESS
By Gregory J. Alexander
Apr 08, 2020
"When a company is only focused on maximizing profitability, every decision is based on how it can squeeze another nickel out of a customer. It changes the quality of the interaction, and it's no longer an honest relationship. We are unique in the industry because we care more about relationships than money. We are a for-profit business, but we don't let the pursuit of profit drive any decisions whatsoever," says Scott Dorsey, CEO of Merritt Companies 
(www.merritt-companies.com), which has three companies under one umbrella – Merritt Properties, Merritt Construction Services and Merritt Clubs.
Dorsey, who joined Merritt in 1972 and whose cousin was Leroy Merritt, founder of the company, says that Merritt's laser focus on relationships, rather than profits, extends to its employees. "When I think of the obligations we have to our people, I don't just think of the obligations in economic terms … rather, what someone's life is like. We want our employees to come to work and know that doing the right thing for the customer is what's most important instead of focusing solely on the bottom line." Robb Merritt, who joined the company in 1989 and is president of Merritt Companies and son of founder Leroy Merritt, says that most of Merritt Companies' employees join the company looking for a long-time career, not just 
a job. In fact, 30% of Merritt's employees have been with the company for 20-plus years, while 51% have been with Merritt for 10 or more years.
A Legacy That Lives On Today
Spend just a few minutes with Dorsey and Merritt, and it's obvious how both have been influenced and inspired by the vision and values of the company's founder, Leroy Merritt. Both men bring up his name repeatedly and it's evident that even today, their leadership approach has been shaped by Leroy Merritt. Leroy Merritt was born in Depression-era Dundalk, Maryland at a time of extremely high unemployment, and he had a strong work ethic and aspirations beyond a job at one of the local steel mills. Buoyed by a senatorial scholarship, he attended Western Maryland College (now McDaniel College) at a time when – based on the economic environment in Dundalk – getting a college degree was highly unusual. His scholarship covered tuition and room and board, but nothing else, so to make ends meet, he sold hot dogs at night in the dorms, and in the summer, he worked in construction at his uncles' masonry business. After graduating, he started a homebuilding business, building more than 60 homes in 10 years, before partnering with Ed St. John to begin building warehouses.
Today, Merritt Properties has over 16 million square feet of commercial real estate throughout Maryland, Virginia and North Carolina. It also handles its own property management services to care for its buildings and customers with customer service available 24 hours a day, as well as professional interior design and space planning services to customers – at no extra charge.
Dorsey is a fountain of great stories and anecdotes that illustrate Leroy Merritt's approach to business and the importance of quality, personal relationships with employees, customers and vendors. Dorsey recalls a moment early on in his career at Merritt when he was looking at ways to reduce costs on a warehouse project and looked at whether they could save money by having a subcontractor reduce his fee. "Instead of trying to get the steel contractor to come down on his price in order to increase our profits, Leroy Merritt said, 'Everyone needs to make a living, and everyone deserves a decent profit.' He believed that contractors and vendors are part of our team, and if you let them make a fair profit, when you need them, for example, to get a client into a new space in 30 days and it should take 90 days, it's amazing how they will deliver for you."
Dorsey's business and leadership approach was also influenced by the Jesuit educational approach he encountered when he was earning his M.B.A. (at night, while working at Merritt) at Loyola University Maryland. He recalls that most business schools at that time were teaching The Friedman Doctrine by economist Milton Friedman, which states that a firm's main responsibility is to its shareholders and its main goal should be to maximize returns to its shareholders. Dorsey notes that – as a Jesuit school – his ethics professor was a priest, and he strongly disagreed with The Friedman Doctrine.
"Instead, Father Duffy said that you have four stakeholders who you are responsible for, in this order: first, your employees, and your extended team of contractors and suppliers. Your second priority is your customers. Many will say that the customer should come first; however, if you are not taking care of your people, they will not do a good job taking care of your customers. Your third priority should be your shareholders, and you owe them not a maximum return, but a satisfactory return. Your fourth priority is your community," recalls Dorsey. "Hearing this from Father Duffy was reassuring because it told me that the way we were already conducting business at Merritt was the right way. That's always been the basis for the way we structured our company."
Staying Agile and Capitalizing on Opportunity
Both Dorsey and Robb Merritt state that Merritt Companies has never been one to adhere to a strict five- or 10-year strategic plan; instead, they focus on remaining agile so that the company can capitalize on opportunity, respond to market needs and pivot when industry or economic changes occur.
For example, in 2008, when the housing bubble burst, Merritt Companies recognized that it would not – for the foreseeable future – be constructing its own large scale buildings in Maryland and Virginia. "If we had been a traditional real estate development company, we would have had no choice but to downsize our construction group," says Dorsey. Instead Merritt wisely pivoted to focus on third-party work via Merritt Construction Services by reallocating existing resources instead of laying people off.
The company expanded into Virginia in 1998 and recently entered the Raleigh-Durham, North Carolina market, one of the top markets for job growth and population growth. "We have a strong balance sheet and a talented workforce that allows us to take advantage of opportunities as they present themselves, like the expansion into Raleigh-Durham," Merritt says. "Our culture is unique so when we expand into other markets, we move three or four key individuals from Baltimore to head up the new office and then hire local staff who know the market."
Leroy Merritt was also continuously focused on taking advantage of growth opportunities, even when they were outside of the company's industry of focus. For example, in 1977, at the forefront of the racquetball craze, Merritt was approached by a client who wanted to lease space for courts in Towson. Once the zoning was approved and the space constructed, the client's investors pulled out. Leroy decided to take over the business and opened his first athletic facility, the Towson Court Club, despite having no experience in the health club business. Today, Merritt Clubs has nine locations in the Baltimore metropolitan area.
"The culture of the health club industry is all about selling lifetime memberships with a sole focus on sales, not customer service, which is the opposite of how we operate," says Merritt of the challenges the industry presents. "Typically, a health club loses 45% of its members each year, so your sales team has to replace that 45% every year. We decided to focus on attrition, and if we can cut down on those cancellations, then we know we're doing the right thing."
"Something Bigger Than Yourself"
In 1998, Merritt Properties recapitalized via an investor from New York and consolidated everything into one company. Previously, Merritt was structured like most private real estate companies in that each building or project had individual ownership entities. "We gave shares of the company to every single employee," says Merritt. "At the time, the shares had no value but as the company grew, those employee shares would grow in value. The last share distribution was in 2018, so every employee who was here at that time has a share in the company's profits. Everyone who is an employee is an owner, and we want them to feel that way."
Since its employees are also owners, Merritt Companies views commissions and bonuses differently than some of its competitors.
"When you incentivize by commissions and bonuses, if the leasing team does a fabulous job, but the construction team drops the ball, the leasing team still gets its commission, but Merritt as a company did not accomplish anything. At Merritt, every employee has equity in the company, so their financial well-being is through dividends, and those dividends are directly tied to how well the company is doing. One of the most important things for employees is the ability to grow within the company and have the potential for upward mobility."
Dorsey adds that sometimes commissions and bonuses can motivate employees to take action that is not in the customer's best interest.
"For example, most companies in our industry incentivize employees in leasing divisions by giving them a commission," Dorsey says. "When that's the case, they are motivated to just get the deal done, even if it's not the best deal. If a market rent target is $25 per square foot, you can make a deal pretty quickly at $22.50 per square foot, and your commission will not be significantly affected as 
the $22.50 amount is 90% of the market rate. That's why we don't pay our leasing agents on commission. Likewise, none of our construction people get a bonus based on delivering a job on budget or beating the schedule. If you do that, on the very next job, they're likely to try to negotiate the highest budget they can at the longest schedule. None of these actions are in the customer's best interest."
With little staff turnover, many Merritt employees have been with the company for 20-plus years. "People here feel like they are part of something bigger than themselves, and that's important," Dorsey says. I95