April 22, 2015
Press Releases
Merritt Construction Services to Retrofit Direct Energy Solar Location in Columbia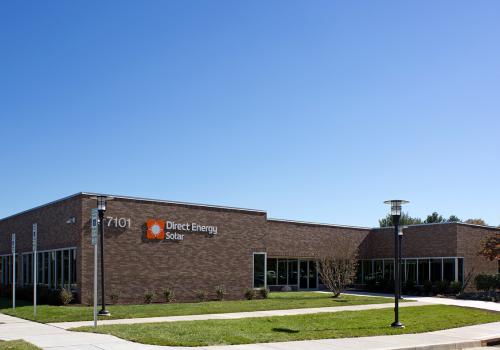 Merritt Construction Services, the construction arm of Merritt Properties, announced today that the firm has been chosen to renovate Direct Energy Solar's (formally known as Astrum Solar)   new location in Columbia, Maryland. The full-service solar provider plans to add 240 new jobs during the next three years to its Maryland headquarters, bringing its total number of employees to more than 300 by the end of 2017.
Thanks to renewable portfolio standards, tax credits and clean energy grants, the solar power industry is booming. To accommodate their expected workforce growth here in Maryland, Direct Energy Solar is expanding from its current 14,400-square-foot space at Merritt Properties' Henkels Lane property in Annapolis Junction to Merritt's 42,852-square-foot Riverwood building in Columbia. Merritt Construction Services will complete the building renovation in preparation for the move.
"Astrum Solar, now called Direct Energy Solar, has been a Merritt customer for several years, and Merritt has been a customer of theirs as well," said Merritt Properties CEO Scott Dorsey. "We are more than happy to be continuing our partnership with them, and we are certainly excited to assist with their expansion as both a landlord and a general contractor."
The retrofit will include a complete exterior and interior face-lift. Inside the building, Merritt will be creating an open workspace environment with numerous meeting and huddle rooms throughout, as well as two large training rooms, a mother's room, a wellness room and a large staff break room. On the exterior, Merritt will be adding dock doors for a new loading area in the warehouse portion of the building. In addition, the roof will be replaced, the store front will be replaced and an entirely new window line will be added to the building.
Merritt Construction Services has begun demolition of the current space and expects the renovations to be completed by June of this year. 
###
About Merritt Properties
As an established market leader with more than 45 years of experience and success, Merritt Properties has an unmatched reputation for our commitment to our customers and the communities we serve. With 16 million square feet in more than 70 locations, Merritt owns and manages the largest privately held commercial real estate portfolio in the Baltimore/Washington region.
About Merritt Construction Services
With a project portfolio of nearly 16 million square feet, Merritt has been providing site development, general construction, redevelopment and interior build-outs for more than 40 years. Whether serving as general contractor, construction manager or design-builder, Merritt Construction Services offers full-service construction capabilities through all phases of development, from feasibility to commissioning. Merritt's highly skilled construction team has completed a comprehensive roster of customized projects, including corporate campuses, LEED-certified green buildings, schools, manufacturing facilities and retail centers.
Merritt Media Contact
Melissa Teague
410.298.2600
mteague@merrittconstruction.com