April 14, 2015
Press Releases
Merritt Construction Services Wins Two Awards From Associated Builders & Contractors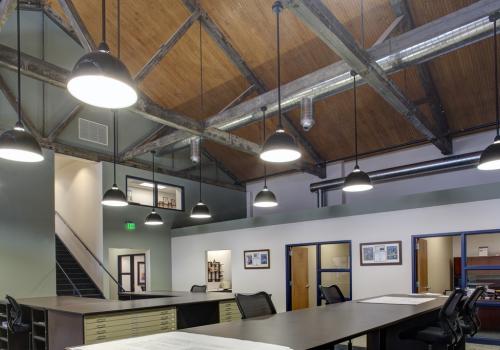 The Baltimore Metro Chapter of the Associated Builders & Contractors (ABC), a non-profit trade association, has named Merritt Construction Services the winner of two Excellence Awards in their annual ABC Awards of Excellence Program.
Merritt won Excellence Awards for the following projects and categories:
MEC2 & GOALS Baltimore – General Contractor Renovation $1-$5 Million
Agora, Inc. – General Contractor Interior Fitout Over $1 Million 
Completed in December of 2013, the MEC2 and GOALS Baltimore project was a 50,000-square-foot renovation that transformed an outdated bottling facility and warehouse into a unique office space for MEC2 and a new indoor sports facility for GOALS Baltimore. The building required major structural improvements before any other renovations could take place. The finished product now features a 15,000-square-foot contemporary office space with an open collaboration work area, a new roof, all new windows and a new entrance for MEC2. In addition, the 35,000-square-foot GOALS Baltimore facility includes two multi-purpose fields, bleacher seating and a snack bar.
In May of 2014, Merritt completed the 16,500-square-foot interior fitout for Agora, Inc. The four-story building required a complete gut of the existing medical space for Agora's new state-of-the-art office. Built in the early 20th century, the building's age and condition posed significant challenges in order to reinforce the building's structural support while salvaging much of the building's original historic features. The design also called for two new ornamental stairs to connect the floors, as well as installation of a roof monitor on the fourth floor to allow for more natural light throughout the office. 
Merritt Construction Services will officially receive the awards at ABC's Awards of Excellence Ceremony on April 28, 2015 at the Hyatt Regency Baltimore.
###
About Merritt Construction Services
With a project portfolio of nearly 16 million square feet, Merritt has been providing site development, general construction, redevelopment and interior build-outs for more than 40 years. Whether serving as general contractor, construction manager or design-builder, Merritt Construction Services offers full-service construction capabilities through all phases of development, from feasibility to commissioning. Merritt's highly skilled construction team has completed a comprehensive roster of customized projects, including corporate campuses, LEED-certified green buildings, schools, manufacturing facilities and retail centers.
Merritt Construction Services Media Contact
Melissa Teague 
410-298-2600
mteague@merrittconstruction.com
Before and after photos available upon request.