December 2, 2021
In the News
Merritt Properties: 'Jacksonville is big part of our future'
Jacksonville Business Journal: Merritt Properties: 'Jacksonville is big part of our future'
Dec 2, 2021, 1:32pm EST
Merritt says the concept for Imeson Landing Business Park could look like this.
Baltimore-based commercial real estate company Merritt Properties is making a big entrance to the Jacksonville market.
The company recently acquired 25 acres of land near the former Imeson Airport on which it plans to build more than 266,000 square feet of light industrial space.
Merritt this week also closed on the purchase of the three-building industrial Magnolia Park property in the Mandarin area. Financial terms of the deal were not immediately available.
The two deals represent a major entrance into a new market for the company.
Imeson Landing Business Park
The project, built partially on the spot where an airport runway used to be, is called Imeson Landing Business Park.
Pat Franklin of Merritt Properties told the Business Journal the plan is to deliver the first buildings at that site by the end of 2022.
There will be five buildings that range in size from 39,000 square feet to 69,000 square feet.
Luke Pope of JLL represents Merritt.
"We could not be more excited work with Merritt as they enter Jacksonville," Pope said. "Tenant demand for light industrial space in Northeast Florida is at an all-time high, and Merritt is one of the country's leading owners and developers of this product. Their presence will help alleviate some of the shortage and strengthen this segment of the market for years to come."
Magnolia Park
"Normally we are a ground up developer, but we think this is a good complement with existing product," Franklin said.
Merritt Properties has a portfolio of 19 million square feet, the vast majority of which is light industrial space that Franklin said is 94% occupied and geared toward small businesses. He said the average tenant across the footprint leases approximately 6,000 square feet.
"Merritt has been creating homes for businesses for over 50 years, and we're looking forward to serving new and future customers, joining the local business community, and developing a presence in Jacksonville," Franklin said. "Class A small bay, light industrial product is in high demand, and these properties will allow us to serve the needs of surrounding businesses and accommodate a variety of customers searching for well- located office and warehouse space."
Future in Jax
"Jacksonville became a desirable location due to the area's pro-growth business culture, low vacancy rates, advanced transportation and logistics, and fast-growing communities," said Robb Merritt, president of Merritt Properties. "These acquisitions allow us to expand into a strong market while responding to demand for single-story, light industrial product."
Franklin said the company's interest in the Jacksonville area began in 2018.
"We looked at a lot of markets, but we kept coming back to Jacksonville because it reminded us of Baltimore in 1997," Franklin said. "That's when Baltimore just took off. It has that feel, that things are going to explode."
Franklin said Merritt is currently looking at several other deals in the area that could yield several hundred thousand additional square feet in the next few years.
"In next year and a half, there may be 10 people here working for Merritt," Franklin said. "Jacksonville is a long-term play for us, we think there is 20 or 25 years of development opportunity. It's a big part of our future."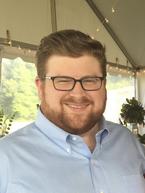 Brent Godwin
Real Estate Reporter