September 17, 2014
Press Releases
Merritt Properties Partners with NAFCO & Congressional Seafood Co. on New Seafood Distribution Facility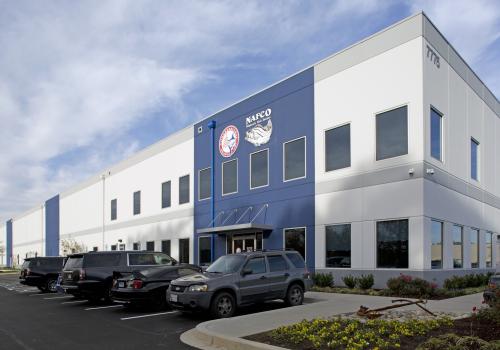 Merritt Properties announced today that is has entered into a joint venture with NAFCO & Congressional Seafood Company on a 88,000-square-foot seafood distribution facility in Jessup, Maryland. The facility will serve as the company's new headquarters, allowing them to centralize their operation with the opportunity for an 18,000-square-foot future expansion. 
Located at 7775 S. Chesapeake Bay Court adjacent to the Maryland Seafood Market, the single-story building is being constructed on 5.5 acres of land purchased from the Maryland Food Center Authority (MFCA). The lot and building will be jointly owned by Merritt Properties and Stanley Pearlman, president of NAFCO. NAFCO & Congressional will be the initial tenant while Merritt Properties will serve as managing partner.
NAFCO & Congressional presently lease space with the MFCA at the Seafood Market; however, the affiliated companies have outgrown their bays and are in need of their own facility.
"We are very excited to be bringing NAFCO and Congressional Seafood under one roof with the ground breaking of our new offices and food processing plant at the Seafood Market in Jessup," said Jon Pearlman, vice president, director of operations and HACCP coordinator at Congressional Seafood Company. "Howard County has been our home for the past 20 years and we're so happy we are able to build our new headquarters on familiar ground. We believe the state-of-the-art facility will raise the bar for food safety and enable us to continue to deliver the highest quality seafood to our customers throughout the mid-Atlantic."
Currently, Congressional hand cuts over 15,000 pounds of fish daily at the Maryland Seafood Market. They deliver their products to over 300 restaurants every day, with trucks reaching north to Newark, New Jersey and south to Richmond, Virginia. NAFCO is a full line fresh and frozen seafood processor, wholesaler and distributor. They process over 20,000 pounds of fishery products using state-of-the-art equipment and deliver to over 1,100 grocery stores daily. Their fleet of refrigerated trucks enables daily pickups from fish docks, all major airports and cold storage warehouses throughout the region.
"We have long appreciated the business-friendly mindset of Howard County.  They clearly understand the critical role private business plays in the economic health of Maryland," said Merritt Properties CEO Scott Dorsey.  "Our positive relationship with the county has enabled us to move forward with this project, knowing that they will continue to be supportive of our development efforts, as well as the daily operations of NAFCO and Congressional."
Merritt Construction Services, a division of Merritt Properties, will develop the $8.9 million project as a 28' clear, tilt-up industrial/flex building with 8,000 square-feet of office. 
With site work currently underway, the project is expected to be completed by February of 2015.
###
About Merritt Properties
As an established market leader with more than 45 years of experience and success, Merritt Properties has an unmatched reputation for our commitment to our customers and the communities we serve. With 16 million square feet in more than 70 locations, Merritt owns and manages the largest privately held commercial real estate portfolio in the Baltimore/Washington region.
About Merritt Construction Services
With a project portfolio of nearly 16 million square feet, Merritt has been providing site development, general construction, redevelopment and interior build-outs for more than 40 years. Whether serving as general contractor, construction manager or design-builder, Merritt Construction Services offers full-service construction capabilities through all phases of development, from feasibility to commissioning. Merritt's highly skilled construction team has completed a comprehensive roster of customized projects, including corporate campuses, LEED-certified green buildings, schools, manufacturing facilities and retail centers.
About NAFCO & Congressional Seafood Company
NAFCO is the largest regional seafood distributor in the mid-Atlantic, serving retail chains and institutional distributors with a full line of fresh, frozen, canned, smoked, salted and live seafood. Its sister company, Congressional Seafood Co. is also considered one of the mid-Atlantic region's best suppliers of top quality seafood providing the freshest products to area chefs and restaurants. Both are located at the Maryland Seafood Market in Jessup, Maryland and conveniently situated along the I-95 corridor. Learn more about NAFCO at www.nafcofish.com and Congressional Seafood at www.congressionalseafood.com.
Merritt Properties Media Contact
Melissa Teague
410-298-2600
mteague@merrittproperties.com
Building rendering and groundbreaking photos available upon requests.
NFACO & Congressional Seafood Co. Media Contact
Kelly Morris
703-237-9777
kelly@ksmmarketing.com