March 3, 2015
Press Releases
Merritt Properties Welcomes Rockin' Jump to Former Skateland Building in Towson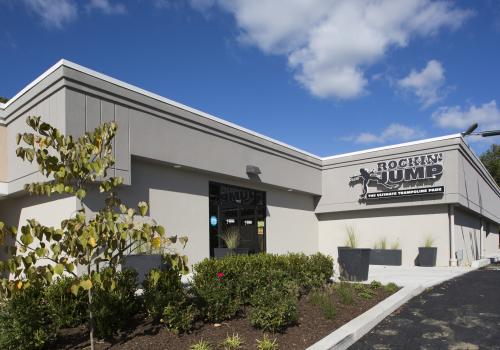 Merritt Properties is pleased to announce that Rockin' Jump® – The Ultimate Trampoline Park – will be coming to Towson. With the intention of replacing the former Skateland Roller Rink with a new recreational facility for area families, Merritt leased the 26,200 square-foot space to Rockin' Jump, which plans to open late this summer.
Rockin' Jump, established in 2010, is a trampoline park franchise with facilities that feature open jump arenas, jump pools with foam cubes, trampoline dodge ball courts, 360 Slam Dunk arenas, and the X-Beam challenge. Rockin' Jump also offers fitness classes, healthy dining options and birthday parties. Like all Rockin' Jump locations, the Towson franchise will be dedicated to the organization's trademarked safety program, JumpSafe™. This ensures that all staff and guests adhere to ASTM safety guidelines for safe operating procedures and that every jumping area is closely monitored by trained team members.
"We are thrilled to bring Rockin' Jump – The Ultimate Trampoline Park – to Towson and are delighted by our tremendous partnership with Merritt Properties," said Shannon Burkhart, Marketing Director for Rockin' Jump Towson.  "We believe that the location in the reinvigorated Towson-Joppa Road corridor, adjacent to the Merritt Athletic Club, is the ideal home for our newest franchise. Rockin' Jump will build upon the location's history as a recreational facility and provide the Towson community with the ultimate family sports and fitness destination."
Merritt Properties purchased the 42,512-square-foot flex building in 2012, with the intent of enhancing its physical appearance, as well as the tenant mix, to better cater to the surrounding community. In addition to the former Skateland space, the building also offers approximately 16,000 square feet of flex, retail and warehouse space. Located at 8841-55 Orchard Tree Lane, it's adjacent to Merritt's Towson Business Center and the newly renovated Merritt Athletic Club-Towson.
Rockin' Jump currently has nine open locations, predominately in California, with 27 additional locations slated to open over the next several years throughout North America and Asia. For more information about Rockin' Jump and their growing number of locations, please visit www.rockinjump.com.
###
About Merritt Properties
As a full-service commercial real estate development firm with more than 45 years of experience, Merritt Properties owns and manages the largest privately held commercial real estate portfolio in the Baltimore/Washington area. Since 1967, the company has focused on creating "homes for businesses" by building long-term customer relationships along with 16 million square feet of Class A office, flex, warehouse, distribution, retail and build-to-suit properties throughout Maryland and Northern Virginia. Over the past 10 years, Merritt Properties has also emerged as a regional leader in green building with an expansive roster of LEED projects that include new construction, redevelopment, commercial interiors and building retrofits.  Additionally, Merritt Properties is committed to supporting to the communities in which it builds, consistently listed among the most philanthropic companies in Baltimore.
Merritt Properties Media Contact
Melissa Teague
410-298-2600
mteague@merrittproperties.com