April 2, 2015
Press Releases
Three New Leases Signed at Merritt's 20700 Loudoun County Parkway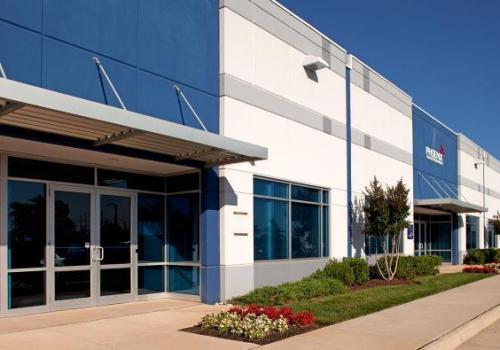 Merritt Properties announced today that it has leased 40,353 square feet of their new 72,900-square-foot flex industrial building that is currently under construction in Ashburn, Virginia. This will bring 20700 Loudoun County Parkway to nearly 55% leased prior to its completion.
Located at the intersection of Loudoun County Parkway and Marblehead Drive, across from One Loudoun, the building features 20-foot clear ceiling heights with typical bay sizes of 2,700 and 3,300 square feet. The first three tenants include Fidelity Mechanical Services, Saab Defense and Security USA, LLC and Crown Trophy of Ashburn, confirming that the building's design and location appeal to a wide variety of industries and companies.
Fidelity Mechanical Services, a provider of mechanical HVAC design, installation and services, leased an 8,463-square-foot office/warehouse space. Saab Defense and Security USA, which provides innovative defense and security solutions to the government, leased a 26,522-square-foot office and warehouse space for daily operations and distribution. Finally, Crown Trophy of Ashburn specializes in award and recognition products for corporate businesses, sport organizations and individual teams, schools and government agencies. Their products include crystal and acrylic awards, plaques, trophies, medals and also branded promotional items. Their 5,368-square foot facility will be used for production and engraving, as well as a show room to display their products.
Merritt moved forward with constructing the speculative building due to a recent surge of data center demand and a lack of Class A light industrial inventory in Loudoun County. The business-friendly mindset of Loudoun County has given Merritt confidence that the county will continue to be supportive of its building endeavors as well as the future of their tenants. Merritt expects the project to be fully completed in May.
"Loudoun County continues to prove that its intent to be a business-friendly community is sincere," said Merritt Properties CEO Scott Dorsey. "Their effort to build the county's economy has assisted with attracting new and expanding businesses to the area, and with our building nearly complete, we are excited to have Fidelity, Saab and Crown Trophy of Ashburn on board as new customers. We are looking forward to watching them grow with us and within the county over the next several years."
This building will be the fifth Merritt development in Virginia and is specifically modeled after Beaumeade Corporate Park, a six-building light and bulk industrial business park, totaling 472,913 square feet on Guilford Drive. Merritt's Virginia assets now represent 24 buildings and approximately 1.5 million square feet.
###
About Merritt Properties
As a full-service commercial real estate development firm with more than 45 years of experience, Merritt Properties owns and manages the largest privately held commercial real estate portfolio in the Baltimore/Washington area. Since 1967, the company has focused on creating "homes for businesses" by building long-term customer relationships along with 16 million square feet of Class A office, flex, warehouse, distribution, retail and build-to-suit properties throughout Maryland and Northern Virginia. Over the past 10 years, Merritt Properties has also emerged as a regional leader in green building with an expansive roster of LEED projects that include new construction, redevelopment, commercial interiors and building retrofits.  Additionally, Merritt Properties is committed to supporting to the communities in which it builds, consistently listed among the most philanthropic companies in Baltimore.
Media Contact
Melissa Teague
410-298-2600
mteague@merrittproperties.com