May 20, 2016
Blog Entries
Buckingham Update: The Shell Is Up!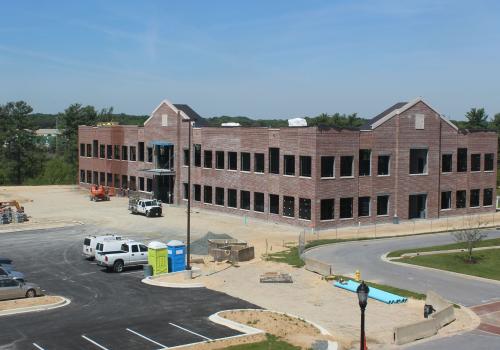 Merritt has been hard at work on our Buckingham site in Hanover, Maryland. The shell and the brick façade at 7580 Buckingham Boulevard are now up and interior work has begun! 
We broke ground on Buckingham 3 in late December, and after a long and snowy winter, the expected completion date is set for October 2016. Upon completion, Chesapeake Urology Associates, P.A. will occupy 17,000 square feet of the 53,500 square foot building. This building is the first of three office/medical buildings planned for Buckingham and is joined by two finished retail buildings, one housing a 24-hour Merritt Athletic Club.
You can check out our live-feed of the construction, or view a time-lapse video to see the whole transformation here!