December 28, 2020
In the News
Fast-moving developer breaks ground on 74-acre business park in Wake Forest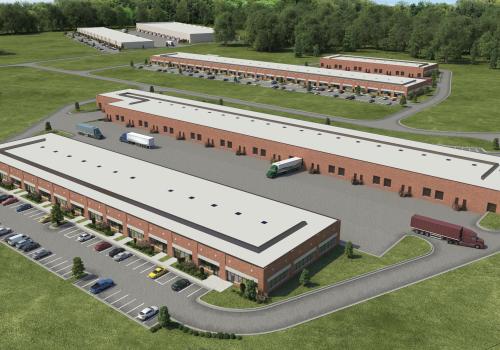 A Maryland developer continues its expansion in the Triangle with work underway on a large industrial development in Wake Forest.
This month, Merritt Properties of Baltimore began work on Merritt Capital Business Park, calling for 452,500 square feet of light industrial space in Wake Forest.
The property is situated on 74 acres off Ligon Mill Road south of the Wake Forest Fire Department. The company bought the land for $3.7 million at the start of this year.
"Given Wake Forest's growing business and industrial base, we determined the area would be an excellent location for our continued development in the region." said Keith Wallace, who heads leasing and business development in North Carolina for Merritt. "We are confident that Merritt Capital Business Park will meet the needs of small to mid-sized businesses seeking flex space for office and manufacturing or warehouse requirements."
Altogether, the park will include seven buildings ranging from 30,000 to 140,000 square feet and complete with rear loading docks, drive-in capabilities and surface parking.
Merritt has brought on WithersRavenel, Maurer Architecture, Soil & Environmental Consultants, McKim & Creed, and S&ME in addition to other local firms and subcontractors.
"We're thrilled for the new investment and job creation this development will produce for our rapidly growing community," said Jason Cannon, president of the Wake Forest Business & Industry Partnership. "Wake Forest provides prime real estate in the Triangle for a project of this undertaking and we're proud to partner with Merritt Properties on this development."
Colliers International's team of Larry Lakins, Hunter Willard and Andrew Young is handling leasing at the park. 
"We are honored to have been selected by Merritt Properties to help oversee the leasing for this significant project," Lakins said. "The Triangle continues to remain a strong industrial market and attractive destination for businesses looking for corporate expansions and relocations."
The project is one of a handful Merritt has launched in the Triangle since entering the market with its premiere project, Merritt TW Crossing, which is underway in Durham and has already signed tenants.
This summer, the company filed a rezoning application in Knightdale calling for a new industrial park with 271,450 square feet of space across five buildings. Uses would include flex office space, industrial and light manufacturing. The project is situated at 123 Hinton Oaks Blvd. abutting the Shoppes at Midway Plantation retail center along U.S. 64 Business. 
Merritt opened its Raleigh office in February.
Caleb Harshberger
Staff Writer
Triangle Business Journal