July 3, 2023
Press Releases
Merritt Properties Signs 12 Leases, Begins Phase Two of Construction at Imeson Landing Business Park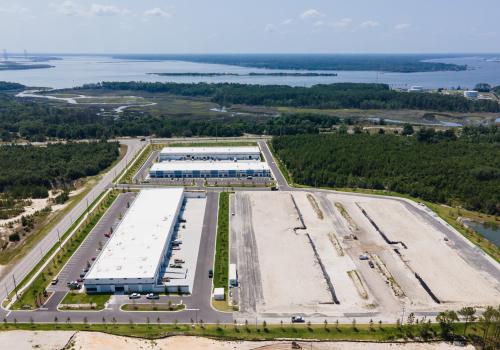 Merritt Properties announced today that it has signed twelve new leases at Imeson Landing Business Park, the developer's first ground-up development in Jacksonville, Florida. Over 121,000 square feet of flex/light industrial space has been leased across three buildings, representing 88 percent of the park and driving the second phase of construction.
"Customers are leasing spaces from 2,800 to 29,000 square feet," said Pat Franklin of Merritt's leasing team. "From food packaging and transportation services to government contracting and wholesale distribution, a wide range of users will call Imeson Landing Business Park the new home for their business."
Phase two of construction will focus on the development of Buildings 400 and 500, two additional flex/light industrial properties that are 68,400 square feet and 60,000 square feet, respectively. Construction is expected to deliver by December 2023.  
"We are excited to reach this project milestone and deliver more of Merritt's tilt-up flex buildings to the market," said Gary Swatko, director of development and construction at Merritt Properties. "Buildings 400 and 500 will serve businesses of all sizes and sectors, and we look forward to assisting more customers with their warehousing and office needs as we reach full occupancy."
Located in north Jacksonville's Duval County at Zoo Parkway and Imeson Park Boulevard, Imeson Landing Business Park offers 18- to 20- clear heights, rear-loaded docks, and immediate access to Interstate 95 and Interstate 295.
"We chose Imeson Landing Business Park for its great location, excellent construction quality, and a management team that is flexible and easy to work with," said Vin Misciagna of CLogic Defense, an 11,685-square-foot tenant and woman-owned small business that designs and develops critical military products and systems. "We look forward to a long relationship with Merritt Properties."
Other tenants currently include American EV, Dorado Graphix, Evans Marketing Group, EX Anchor Puller, Freedom Forever, Krebs Brothers, Loomis, New Image Global, Phenix Specialty Films, Tote Maritime and VSS Logistics.
"Based on its position in the region and ability to meet the market's demand for flex/light industrial space, the park continues to see a strong level of leasing interest, and we look forward to assisting more office and warehouse users," added Franklin.
In March 2023, Merritt acquired 16 acres to expand Imeson Landing Business Park and add three flex/light industrial buildings totaling 114,500 square feet along Zoo Parkway. Once complete, the park will feature eight properties.
With plans to establish a greater presence in Jacksonville, Merritt also purchased a 16-acre tract of land for the speculative development of Oakleaf Commerce Center, a 142,900-square-foot light industrial business park in Clay County. The park will feature three buildings ranging from 32,250 to 59,400 square feet as well as a pad site for future development.
Merritt also owns and manages Magnolia Park, a three-building, 80,863-square-foot flex/light industrial park in Duval County.
In addition to Franklin, Ross Crabtree and Luke Pope of JLL are assisting with leasing efforts at Imeson Landing Business Park. Serving as the general contractor, ARCO/Design Build has been working with Merritt's land development and construction division since the project broke ground in March 2022.