March 4, 2021
Press Releases
Merritt Properties Signs Three Leases at Merritt TW Crossing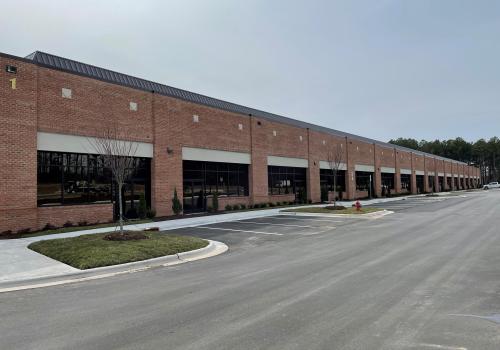 CONSTRUCTION NEARS COMPLETION AT COMPANY'S FIRST NORTH CAROLINA DEVELOPMENT
Merritt Properties announced today that it has signed three new leases with Performance Print Services, Pendergraph Machines, and an undisclosed global life sciences company at Merritt TW Crossing. The companies are leasing over 24,000 square feet of combined light industrial space across two buildings.
Located in Durham, N.C., adjacent to Research Triangle Park at the intersection of TW Alexander Drive and S. Miami Boulevard, Merritt TW Crossing consists of four flex/light industrial buildings totaling 284,240 square feet. The park is situated on a 51-acre tract purchased by the Maryland-based developer in January 2020. Construction began in May 2020 and the final building is expected to deliver this spring.
Joining tenants Shimadzu Scientific Instruments and an undisclosed medical device company, Performance Print Services will lease 5,424 square feet at 1 TW Alexander Drive, the first flex/light industrial building constructed at the park. The commercial printer will relocate from a nearby Durham office to expand its operations.
"We are thrilled to move our facility to Merritt TW Crossing. The park is conveniently located near Research Triangle Park, Durham and Raleigh, and will provide us with increased efficiencies that will be attractive to our current customers and new business as well," said Chris Wallace, owner and chief executive officer of Performance Print Services. "Everything about our interaction with Merritt throughout this process has been top notch."
Moving from Spaces Crabtree Terrace, Merritt Properties will establish its North Carolina corporate office in 2,712 square feet within the same building, bringing the building to 88 percent leased.
The second building constructed at the park, 3252 S. Miami Boulevard, is also attracting significant leasing activity. A leading global life sciences company will open a new 11,671-square-foot facility, and Pendergraph Machines, an expert in custom machinery and product manufacturing, will relocate and move into 7,238 square feet.
"We are excited to welcome these dynamic businesses, all leaders in their fields, to Merritt TW Crossing," said Keith Wallace of Merritt's North Carolina leasing team. "Based on its position in the Research Triangle region and ability to meet the market's demand for flex/light industrial space, the park continues to see a strong level of leasing interest, and we look forward to assisting more office and warehouse users."
With plans to establish a regional presence in North Carolina, Merritt also purchased a 74-acre tract of land for the speculative development of Merritt Capital Business Park, a 452,500-square-foot light industrial business park in Wake Forest. The park will feature up to seven buildings ranging from 30,000 to 85,800 square feet. Construction began in December 2020 and the first building is expected to deliver during the fourth quarter of this year.
Wallace represented Merritt in each leasing transaction. Reggie Oakley of Real Estate Associates, Inc. represented Pendergraph Machines and Ann-Stewart Patterson of CBRE | Raleigh represented the global life sciences company.