November 9, 2022
Press Releases
Merritt Properties Starts Construction on North Chapel Business Center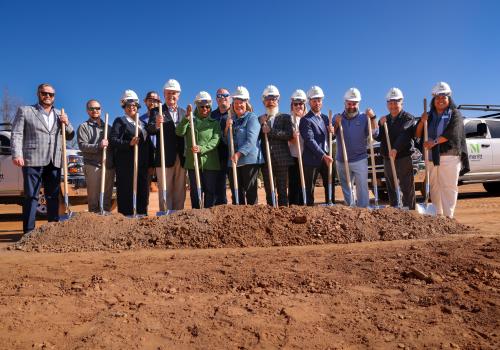 Project Represents Chapel Hill's Only Active Ground-Up Flex/Light Industrial Development 
Merritt Properties, a full-service commercial real estate development company with over 21 million square feet throughout Maryland, Virginia, Florida, and North Carolina, announced today that it has begun construction on a two-building, flex/light industrial business park in Chapel Hill, North Carolina.
This project represents the only ground-up flex/light industrial development that is under construction in Chapel Hill. Delivery is expected to occur by the second quarter of 2023.
"We are thrilled to break ground on North Chapel Business Center and bring our flex/light industrial concept to Chapel Hill," said Keith Wallace of Merritt Properties. "Office and warehouse users continue to seek small-bay, dock-loaded space, so we are eager to fulfill a need in the market and create more homes for businesses."
Located just west of Interstate 40 and Highway 86, North Chapel Business Center will feature two, single-story flex/light industrial buildings totaling 116,300 square feet. The first building will comprise 61,700 square feet and the second building will offer 54,600 square feet. Both will provide 18-foot clear heights, with leasable bays starting at 3,000 square feet.
"Merritt Properties' decision to create new flex space on Millhouse Road fully aligns with our strategic goals for the area and will bring new jobs and revenues to Chapel Hill," said Chapel Hill Mayor Pam Hemminger. 
"The construction of this park will serve businesses of all sizes and sectors," added Nathan Robb of Merritt Properties. "As witnessed at our other flex/light industrial parks in the Triangle region, small-bay users are interested in move-in ready space. One main attraction is that our product type allows businesses the flexibility to adjust their footprint—more office and less warehouse or more warehouse and less office—based on their operational requirements."
Merritt has more than two million square feet of land that is developed, proposed or under construction across multiple projects in the Triangle area.
To learn more about North Chapel Business Center, visit www.merritt-ncbc.com